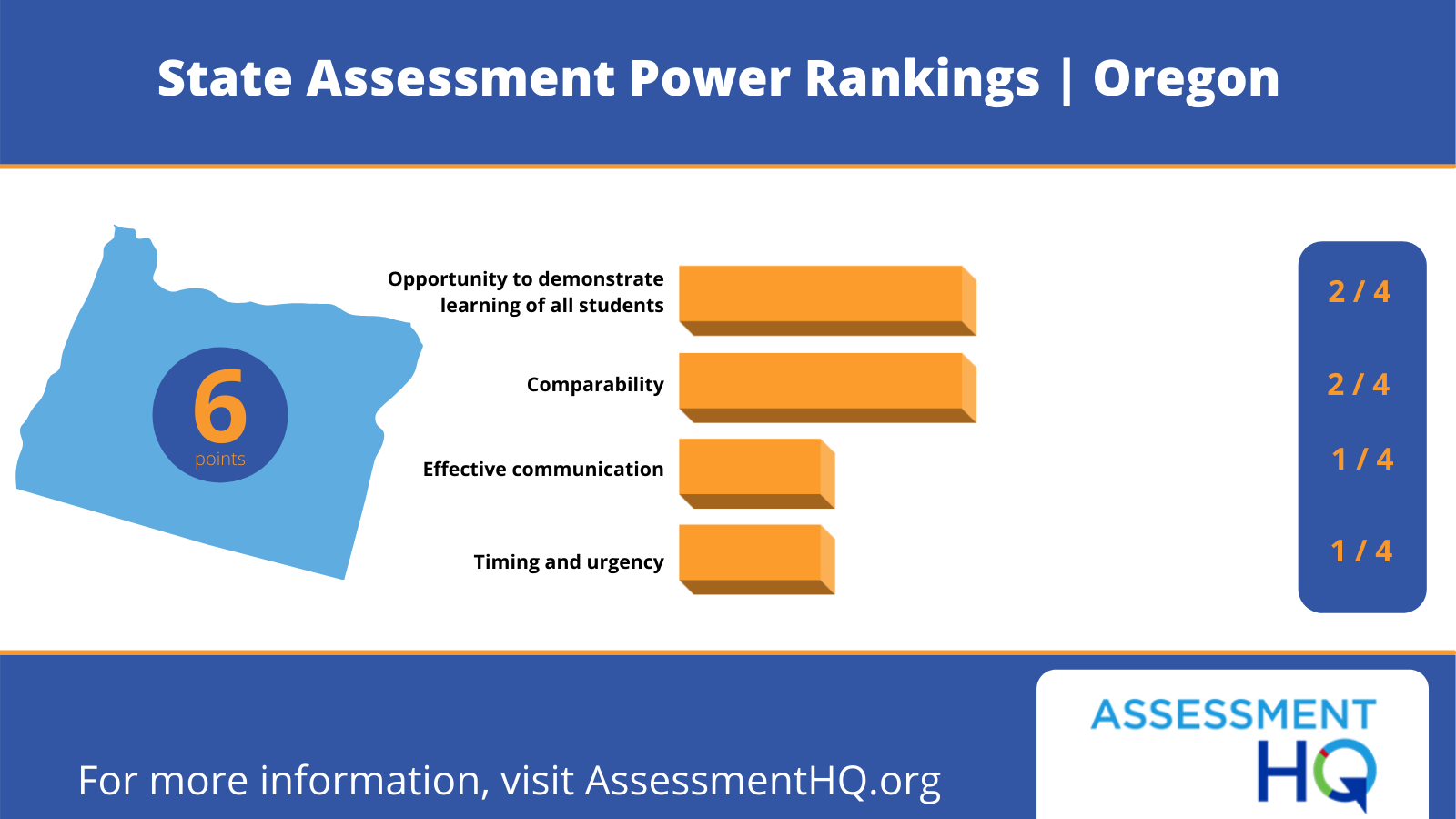 07 Apr

Oregon: Setting a low bar

By Dale Chu
Late last night, the U.S. Department of Education approved Oregon's amended waiver request. The verdict itself was expected given the similarities with Colorado's approved waiver (more on that below) coupled with the opening of Oregon's testing window next week (i.e., April 13th). Nevertheless, the state's plan is still worth reviewing on its merits as part of our assessment power rankings.
There are a dozen or so states looking to reduce or eliminate the amount of standardized testing this spring, but no state has left as sad a trail as Oregon has in the process. Back in January, the state submitted an excuse-ridden waiver application rambling through a laundry list of reasons why they wouldn't be able to proceed with annual testing. Last month, the feds justifiably told Oregon that their proposal wouldn't fly; less than a week later, lo and behold the state changed their tune in an amended waiver—the one that was just approved—while reiterating many of the same grievances, but this time in condensed form.
Before diving into the rankings, and as I've done with the other states I've examined so far, it's worth being upfront about two real challenges on the ground. First, Oregon is behind most states when it comes to reopening schools for in-person learning. For students that are in the midst of returning, it's often to a hybrid model that limits the amount of face-to-face instruction. Second, Oregon has a powerful teachers union—by one measure, the second strongest in the nation—that is no friend of standardized tests. The governor signed a law in 2015 that made it easier for parents to opt-out of the exams, and the state schools chief is skeptical not only of statewide assessments, but of learning loss and achievement gaps too.
State officials are likely breathing a sigh of relief with yesterday's news, so let's take a closer look at Oregon's plan:
Opportunity to demonstrate learning of all students — Score: 2
In its original waiver application, Oregon asked to suspend state testing and administer a new student survey in its stead. The state also intended to lean into its relatively new statewide interim assessment system to gather student performance data, even though a fraction of the state's 198 districts are even using it according to the Oregon Department of Education's own reports.
When the feds said this approach wasn't good enough, the state quickly pivoted and is now offering to pare the tests down (certainly an improvement, thanks to Uncle Sam) rather than skipping them entirely. The new plan proposes that certain grades take only certain tests, in a move that is evocative of Colorado's baby-splitting approach—but even more scattershot. Specifically, students in grades 3, 6, 7, and 11 will take the ELA test and students in grades 4, 7, 8, and 11 will take the math portion. Notably, this scheme lets students in grade 5, for example, completely off the hook for both ELA and math.
Comparability — Score: 2
Because students will actually be tested under the amended waiver proposal, there is a non-zero possibility of comparing students, but many questions remain. The negative outlook upon standardized tests on the part of state officials has had a trickle-down effect to districts (more on that below). What's more, the holes created by not testing students in either ELA or math (or both), compounded by widely-anticipated lower student participation rates writ large, could create a Swiss-cheese picture of student performance that will be difficult if not impossible to use for driving education recovery.
Effective communication — Score: 1
One of the biggest obstacles to the effective use of state assessments in Oregon is the tenor and tone of official communications, which stems from a belief system on the part of state officials that works at cross-purposes with the need for valid and comparable student data. Consider just one of many examples from the state's original waiver application:
Summative assessments are designed for a singular purpose – public education systems accountability. Thus, if school and district accountability is not defensible in 2020-21, summative assessments would also not be defensible.
Set aside the fact that summative assessments are also an invaluable tool for helping to guide the deployment of limited resources. There's far too much to unpack in this single statement, but it's clear that local districts are taking their cues from these messages.
Case in point, at least two separate school districts recently passed resolutions encouraging parents to forego testing this year. If there's any doubt about the connection back to the state's messaging, one local school board is requiring parents to "opt-in" if they want their children to participate, explicitly citing the Oregon Department of Education's "list of twelve threats" to the valid use of state testing data.
Speaking of threats, there's a curious line towards the end of the state's amended waiver that could be taken as one:
While [Oregon] will put forward a good faith effort to offer and require assessments this school year, I expect opt-outs to increase significantly in our state. This creates concern for the carryover impact on meeting future participation requirements… Local efforts to broadly opt-out of state testing this year are quickly gaining steam. 
Reading between the lines, it's as if the state is saying that their view of state testing this year is purely as a compliance exercise—and by forcing tests on schools this spring, low student participation could continue indefinitely (as if the state is a hapless observer here and cannot exert any influence over this).
Timing and urgency — Score: 1
It's hard to see how the data provided by Oregon's pared-down and haphazard testing scheme will be useful in supporting the smart allocation of federal dollars. The uptake of the state's interim assessment system is low because of its newness, and the state's student survey is still in a pilot stage and by itself not enough to provide an adequate picture of student performance. Sure, the state may have won Uncle Sam's approval, but their amended plan is a half-hearted one, with neither the urgency nor the seriousness required to meet the extraordinary challenges of the present moment.