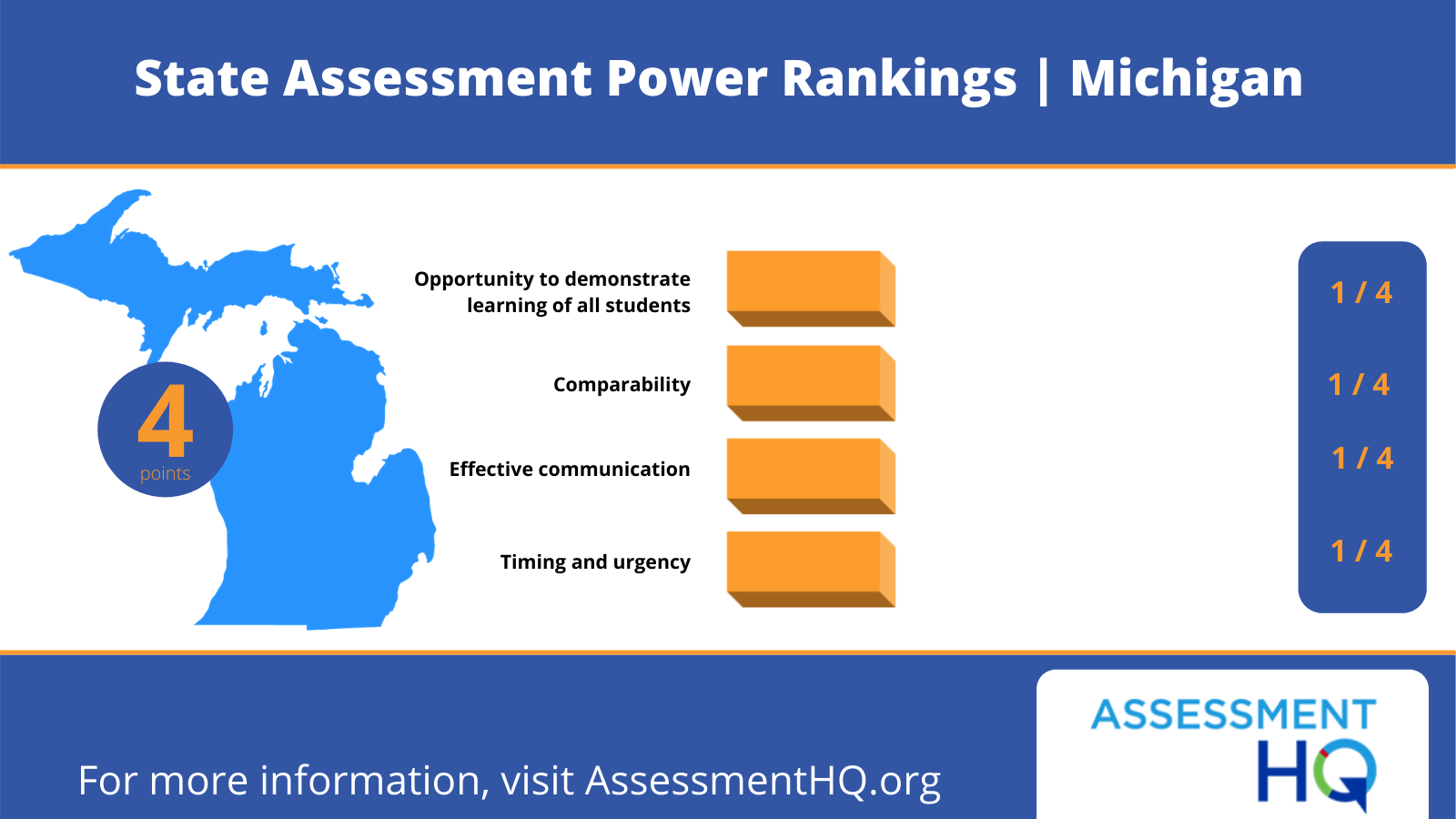 05 Apr

Michigan: If at first you don't succeed…

By Dale Chu
Last summer, Michigan became the first state to formally seek federal permission to suspend state testing in 2021—a full ten months before the assessments were even slated to begin. Former education secretary Betsy DeVos appropriately denied that request, but Michigan was undeterred and submitted a second application in January. Instead of administering the statewide exams, Michigan is proposing the use of local "benchmark assessments"—an approach that's popular among the dozen or so other states currently in the mix for assessment waivers.
Before diving into the rankings, it's worth acknowledging reality on the ground vis-à-vis three key conditions. First, Covid outbreaks have recently jumped in Michigan's schools, stoking concerns that additional school closures may be necessary. Former FDA commissioner Scott Gottlieb has warned, "Michigan, Massachusetts, and the New York tri-state region remain some of the areas of greatest concern, where Covid cases are beginning to surge again." Second, the state's K-12 education system has been struggling, with one local advocacy group describing it as a "systemic failure." Finally, the governor, state chief, and state board of education have all been well aligned with the teachers union in opposing standardized tests. The upshot is that it's hard to imagine a scenario where state officials wouldn't have put up a fight against annual testing.
With the state's testing window slated to open in a week (i.e., April 12th), here's how Michigan's assessment waiver stacks up:
Opportunity to demonstrate learning of all students — Score: 1
Michigan wants to forego state testing entirely. Last summer, the state legislature passed, and the governor signed, legislation directing school districts to administer local benchmark assessments—a political move that was more sizzle than steak in that ninety percent of them were already doing so before the pandemic. If state assessments are canceled outright for a second consecutive year, Michigan would be left with a gaping data hole.
Comparability — Score: 1
The results from Michigan's benchmark assessments will not be comparable from district to district. There are five different local exams approved by the state, and districts are also able to select their own assessments. What's more, local school officials have said that benchmarks this spring may have to be administered at home, where test conditions are suboptimal for providing reliable and valid data. Indeed, it's hard to see how the information collected from benchmarks will represent a good baseline for judging recovery efforts going forward.
Effective communication — Score: 1
Michigan's state board of education issued a resolution last month underscoring their distaste for annual testing. It was largely symbolic in that it depends upon Uncle Sam blessing the state's waiver, but symbolism is important when it comes to conveying messages to the public. To wit, the board president said:
You cannot give [state standardized] tests remotely and accurately, in which case the data will lack both validity and reliability. The resulting data will be fundamentally flawed. And yet, if we continue down this road, we will be making high-stakes decisions that could include holding children back based on a summative assessment at a time when they are taking these tests in extremely challenging circumstances.
If anything is flawed here, it's the disingenuous nature of this statement, which notably omits an important detail. That is, the feds are allowing states to dial back accountability this year, so the test results will neither be used to retain students nor for any other "high stakes" decisions—to say nothing of the fact that it's far more likely for benchmark assessments to be administered remotely than it is for the statewide tests.
The state's anti-testing message has been constant and consistent. In a state education department memo sent to local districts at the end of March, there was only one sentence printed in bold: "The state superintendent and the State Board of Education remain strongly opposed to the administration of [statewide standardized] assessments during a pandemic." Put another way, state officials intend to deny parents and students access to comparable statewide data and prevent them from understanding the true magnitude of a year of extraordinary disruption.
Timing and urgency — Score: 1
It seems almost impossible that the data provided by Michigan's local exams will be sufficient to help effectively guide and target the use of federal dollars as part of a coherent recovery strategy. The state's dependence upon a variety of different benchmark exams administered under a variety of conditions, magnified by uneven student participation rates, raises more questions than answers. If Michigan's benchmark assessment data is rendered useless through these or other unforeseen circumstances, will the state education department be willing to admit it? How will they ensure dollars and resources are allocated in a way that isn't haphazard or based on faulty assumptions?