19 Aug

Rising above the zero sum, anti-testing din

By Dale Chu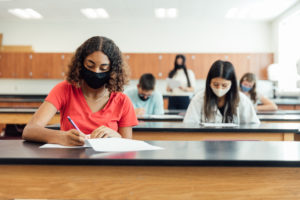 Today, an impressive coalition of fifteen leading policy, advocacy, and member organizations wrote a letter to U.S. Secretary of Education Miguel Cardona asking for clarity on how the federal government will provide guidance and oversight to states in fulfilling ESSA's testing requirements for the 2021-2022 school year. Importantly, the group includes recommendations for the future of assessments as well as a set of principles and suggested sources for stakeholder input.
This opportune letter comes at a precarious time for schooling and testing. No states have achievement data for Spring 2020, and data from Spring 2021 is all over the map. The NEA and AFT have both issued brow-raising documents that tap into the prevailing anti-testing mood. With states and districts entering their third year of turmoil, the calls to end summative exams continue to build towards a dissonant crescendo. Indeed, the prospect of states lining up for another round of federal testing waivers seems not to be a question of if, but a matter of when.
Into the fray enters this coalition, with an eye towards "coming together and looking forward." In spite of the Sturm und Drang on testing, everyone should be able to agree that student success is paramount, and that we simply don't have the data we need to ensure every student gets back on track. To wit, the coalition writes:
It is more important than ever to collect valid, reliable, comparable, statewide data on student achievement and use that information to help improve low-performing schools and close achievement gaps exacerbated by the pandemic.
To be sure, it won't be easy, but Secretary Cardona and his team are uniquely positioned to help states look ahead as the new academic year gets underway. If all parties heed the coalition's recommendations, we could—at the risk of sounding like Pangloss—rise above the politics and put some real energy and effort behind both expanding innovation in assessments and preserving the invaluable equity guardrails afforded by annual testing.