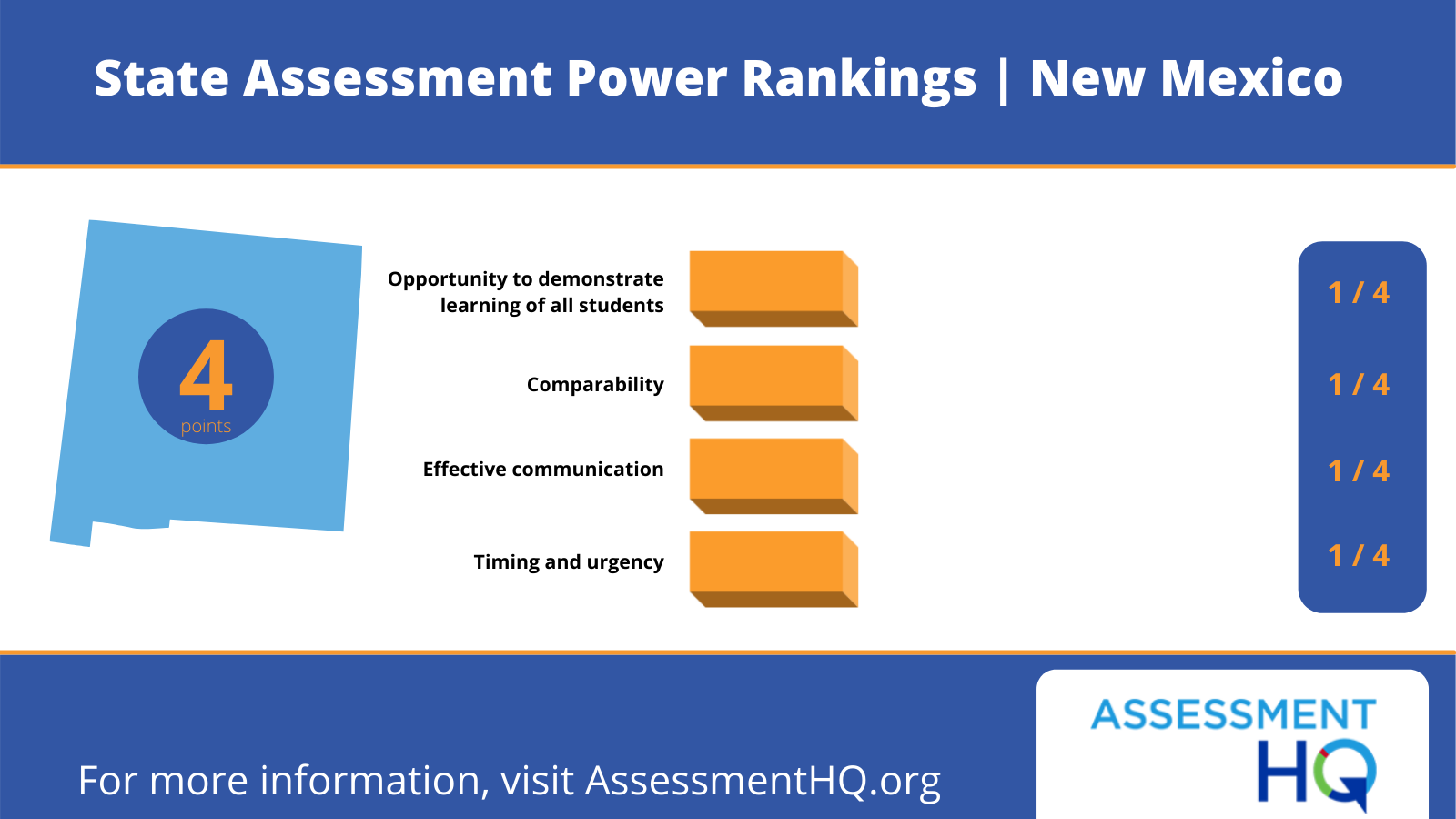 18 May

New Mexico: And the Razzie goes to…

By Dale Chu
As I've made my way through states via the assessment power rankings, a question I sometimes get is which one has been the most egregious. An argument can be made for the nation's capital, the only jurisdiction to receive an official pass from state testing, but they can't be entirely faulted for Uncle Sam's complicity. Michigan, Georgia, and New York would also be in the mix for being woefully underwhelming, but there's one state in particular that's fallen down on the job in spectacular fashion. That ignominy goes to New Mexico, which earns the "Razzie" for worst-approach to spring testing in 2021.
It pains me to say this, as few states have fallen as far and as fast as the Land of Enchantment when it comes to education policy. From leader to laggard, New Mexico has muddled through testing this spring, and by all accounts will have dismal student participation rates at the end, perhaps in the single digits—this in spite of being in the top 5 of states that are now providing fully in-person instruction.
There are too many transgressions to enumerate, but what may take the cake is the local news coverage, which has reported that the state received federal approval for their lackadaisical tack, never mind that New Mexico neither sought nor received an assessment waiver. The state did receive one for accountability, and the only explanation seems to be that state officials have successfully sold this as an imprimatur for skipping testing too.
Opportunity to demonstrate learning of all students — Score: 1
The state's department of education neither pushed nor pretended to exert any pressure upon school districts to collect student assessment data this year. Albuquerque Public Schools, the largest in New Mexico, reported a student participation rate of less than one percent of students. Not to be outdone, Santa Fe Public Schools reported that out of 13,500 students, less than 200 would sit for the exam.
Comparability — Score: 1
There's no need to worry about comparability in New Mexico because it won't be possible with the abysmally low number of students taking the test.
Effective communication — Score: 1
The lack of leadership on testing in the state has been breathtakingly bad. One top state official even went so far to say that spring testing is "not ethical" and "not about good instruction." Setting aside the patent absurdity of such a statement, the lack of seriousness on annual assessments—and the resulting disincentives purposefully created—was impossible to miss.
Timing and urgency — Score: 1
Having gone two consecutive years now without state assessment data, it's hard to see how New Mexico will be able to target the influx of federal dollars the state will soon receive. What's unfortunate for New Mexico's students is that schools and districts have clearly taken their cues from state leaders in collectively putting their heads in the sand.