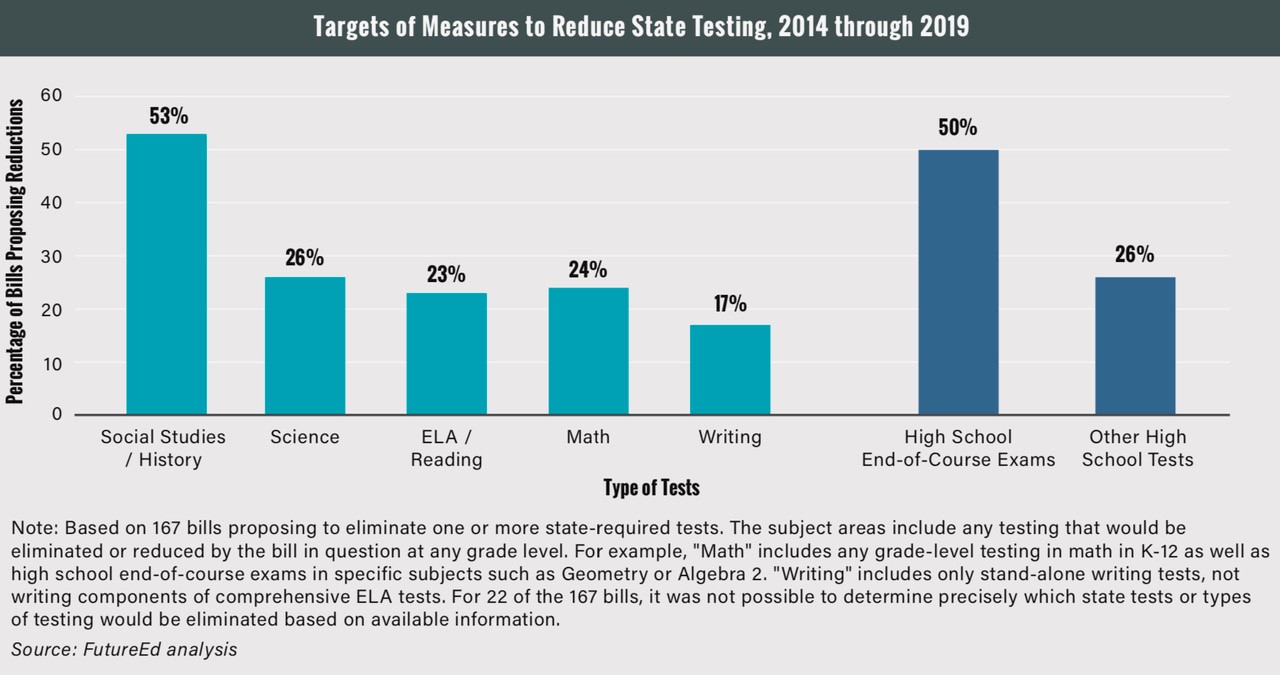 22 Apr

The sound and fury of testing reduction

By Dale Chu

The convergence of the suspension of spring testing with a bipartisan backlash to standardized tests has raised questions as to what the future holds for annual state assessments. Into the breach stepped FutureEd earlier this week with a timely analysis titled, "The Big Test: The Future of State Standardized Assessments." The report, written by Lynn Olson and Craig Jerald, traces the roots of today's lively debate on testing, best demonstrated by the wave of legislative activity in states over the last five years, and sounds an alarm that the critical information provided by summative assessments could be in jeopardy.

Notably, between 2014 and 2019, state lawmakers introduced over 400 bills and 20 resolutions in 44 states in response to the broad critique of over-testing. Not all of them made it into law, but the ones that purportedly targeted state testing in reading and math often missed the mark. Regarding this, Jim Cowen, Executive Director of the Collaborative for Student Success, observes:

More than half the test-reduction legislation involved at least some social studies tests or high school exams in social sciences such as history – subjects not requiring federally mandated tests. Similarly, half the legislation has targeted high school end-of course tests.

To put a finer point on this, when responding to overheated claims that reading and math tests are too plentiful and too punitive, states took action by reducing or eliminating [checks notes] social studies tests, history tests, and end-of-course exams. Alrighty then.
The mismatch is symptomatic of the confused nature of today's testing debate, and is deftly unpacked by the authors in their clear and easy-to-read report. They make a compelling case that anti-testing forces, led by the national teachers' unions and Tea Party conservatives—strange bedfellows coming from opposite flanks no less—have come hair-raisingly close to achieving their goal of eliminating annual testing for good. According to Olson and Jerald, this leaves school reformers in a "race against the clock" to change the current narrative.
To wit, Kaya Henderson, former Chancellor of D.C. Public Schools, says, "We need a more nuanced conversation about what's wrong with the current state of affairs in testing, and how we move to a better situation without throwing the baby out with the bath water. Testing versus no testing isn't the right discussion." To be sure, nuance can be frustratingly elusive during a political throwdown, but Henderson is right. Reformers need to get cracking. The alternative is a world without the essential equity guardrails provided by statewide standardized tests: an all-too-real possibility in which our students end up enduring the greatest punishment.