24 Feb

A test of resolve: A conversation with NewMexicoKidsCAN's Amanda Aragon

By Dale Chu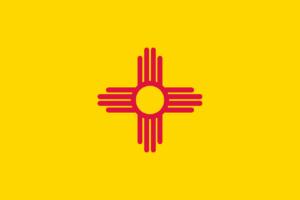 Amanda Aragon is the Executive Director of NewMexicoKidsCAN, a New Mexico-based policy and advocacy organization. Last summer, they released a report called A Test of Resolve: Reinforcing High Expectations & Student Progress in New Mexico, which analyzed the impressive gains New Mexico students have made since the state implemented a more rigorous assessment in 2014. Since the release of that report, however, New Mexico has experienced a high degree of turbulence with regard to their state testing system. Because of our shared interest in the link between high quality assessment systems and student success, Amanda has appeared in previous posts here at Testing 1-2-3. And given how much has happened in the Land of Enchantment, I wanted to spend some more time delving into her thoughts and experiences on the issue. I recently talked with Amanda about all of this, and here's what she said.
Dale Chu: How has the assessment landscape changed over the last few years in New Mexico?
Amanda Aragon: New Mexico's assessment moves have recently resembled those of a Six Flags mega-coaster. In 2014-2015, along with many states, New Mexico adopted the PARCC assessment to better align with our newly adopted statewide standards. After four years of consistent, rigorous assessment and thereby, consistent and comparable student achievement data, Governor Lujan Grisham—motivated by political promises—issued her first executive order on her third day in office requiring that the education department immediately begin the process of discontinuing use of the PARCC assessment. That mandate began a revolving door of assessment proposals and names, through the next year New Mexico saw the NMSBA, TAMELA, and NM-MESA exams. We have now finally arrived at the NM-MSSA (grades 3-8) and SAT exams.
Dale: What do the recent changes in assessments mean for the state? For students? For parents? What role does your organization play in communicating these changes?
Amanda: Honestly, it's complicated. The structure of the new assessment contract means that the content of our new assessment could vary dramatically over the next five years. For the next year at least, the content will be familiar to New Mexico students, parents & educators. That's important because it will result in a less anxiety ridden transition, as long as the new administrative platform works well. If our new vendor, however, chooses to source different content in years two through five of the contract, then the implications are massive. First and foremost, it likely will mean a decrease in the quality of the content which could mean we have a less accurate picture of how well our students are mastering content. The second and equally important risk is that we could lose comparability of all assessment data. Right now, we have five years of comparable assessment data. After this year's assessment window, we'll have six (except for the high school grades). If that content varies significantly from past content, we will no longer be able to make comparisons across schools, districts, grades or subgroups and it would likely take three years to reset our baselines. For a state that ranks near last in education, we simply don't have three years to wait. We need to know every day, every year, if what we are doing is making a difference.
Dale: In what ways does New Mexico's current assessment system reflect the progress students have made over the past decade?
Amanda: The past decade: it's actually pretty overwhelming when you think of everything that has happened in New Mexico's education system over the last ten years. In 2010, we were just starting to implement Common Core, we were still using an assessment aligned to our old standards before transitioning to PARCC in 2014-2015. School accountability via School Grades was implemented in 2011 and later a new teacher evaluation system was created using multiple measures including student achievement growth results. If you look at where we were then, and where we are now, the takeaway is we've made progress, but we have so much more work to do. Today, we are more honest about student performance, and our state results more closely mirror NAEP results. From year one of PARCC to now, our students statewide have improved in ELA by 6.3 percentage points and 2.9 percentage points in math. Quite frankly, while this growth is promising, it's not nearly enough to match the urgency that is required at this moment. We owe our students more and need to be working diligently to ensure our instruction is adequately preparing them to master grade level content, rather than tweaking assessment systems continually.
Dale: Before NM switched tests, we were able to see disaggregated student data over a period of four years over on the Explore State Data section of the site. Digging into that data we saw strong gains with Native American students from 2015-2018 in both ELA and math. What do you think contributed to that strong performance?
Amanda: Strong leaders at the district level, no question. The superintendents and their respective staff deserve all the credit for these gains, most notably the leadership of Gallup-McKinley County Schools and Farmington Municipal Schools. Both districts serve high percentages of Native American students and both districts have made deep commitments–utilizing tools provided by the state–to improve and they've done it. Farmington has improved ELA scores district wide by 14 percentage points, and Gallup has improved ELA scores district wide by over 15 percentage points. That is transformative growth, and they've done it by diving into assessment data, utilizing state provided professional development for school leaders (Principals Pursuing Excellence) and constantly striving for excellence for all students. Truly, these districts have been game changers.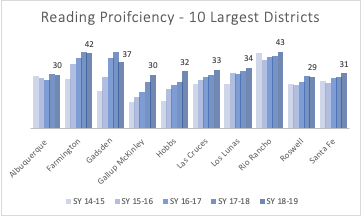 Dale: What advances would you like to see as state assessments are developed and rolled out in the future?
Amanda: Without a doubt the most important advances that need to be developed are on the back end of the assessment process, reporting the data. I hope vendors work to optimize and refine the scoring process so that scores can come back to parents and students faster, actually leaving them time to use them as one data point in ensuring their child's needs are met the following year. The timing of reporting is not the only thing that needs improvement, scores need to be easier to understand, easier to access, easier to be take action on, available in multiple languages, and they definitely need to be available in multiple formats so parents aren't waiting for a piece of paper to come home with their child, or come through the mail. We tell parents that our statewide assessments are important, but we have not done enough to make it easy for them to engage on the back-end, and we owe them that.